781-647-1784
Operating Hours:
Monday through Friday
8:00 a.m. - 5:00 p.m.
Saturday
8:00 a.m. - 3:00 p.m.
Put our experience
to work for you
and see the difference Sarris Truck Equipment
can make for your company!
---
Sarris Truck Equipment
Waltham, Massachusetts
Skid Steer

Plows by Hiniker
Sarris Truck Equipment offers a fine selection of skid steer plows by Hiniker. We offer quality products at competitive prices backed by great service.
Here are some skid steer plows Sarris has to offer. Read below to find out more, then call us if you have additional questions or you want to place an order.
Conventional Plow - Series 2275/2280
BIG OX snowplows feature superior strength for professional performance.
Tubular box-section frames

Reinforced 30-inch high 12-gauge moldboard

Moldboard floats and oscillates to clean uneven surfaces

Full moldboard trip with dual compression springs

Universal mounting plate attachment

Abrasion resistant sheathing protects hydraulic hoses
View Full Product Catalog Flipbook
Download Full Product Catalog (PDF - 8.7mb)
____________
BIG OX C-PLOW - Series 2881/2891
THE BIG OX C-PLOW in pull position makes backdragging parking lots, loading docks and driveways a breeze.
Get the performance of a conventional plow and the added versatility of a backdrag plow in a single unit. Cut through snow with the power of a conventional plow. Then, with push-button ease, capture and pull snow as the blade transforms into a backdrag plow. Tight spaces, building edges, loading docks, curbs and corners are cleared quickly and easily.
Compare Speed and efficiency. The C-Plow lets you move more snow in less time.

Converts from a conventional plow to a backdrag plow with the touch of a button.

Complete snow removal without a separate backdrag plow or loader.
____________
BIG OX V-Plow - Series 29851/29951
Versatile BIG OX V-Plows operate in V, scoop, angle or straight positions.
High-clearance trip-edge protection

Two-way hydraulics provide full moldboard control in V, scoop, left, right or straight modes

Box-section steel-tube frame for long-term strength

Abrasion-resistant sheathing protects hydraulic hoses from wear

Universal mount plate for easy hook-up
____________
SCOOP PLOW - Series 2680/2690
Concave shape captures snow to efficiently clear lots and parking areas. Angles left or right for conventional plowing.

Outer end is angled forward at 50° in full left or right position, reducing high-side spillage.

20° Fixed-angle outer ends

Conventional plow weight and simplicity

V-Plow capacity and efficiency

____________
LOADER SNOWPLOW - Series 260/270/276
Easy hook-up to any loader equipped with a skid steer universal attachment plate. Dual springs provide full trip protection. Six horizontal and two diagonal ribs strengthen the moldboard.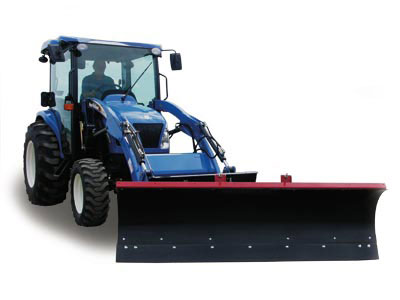 Oscillating, floating design follows uneven and rutted surfaces for cleaner plowing. Slick HMW poly moldboard is dent-resistant and corrosion free.
Now available with universal skid-steer style mount or John Deere loader mount.
Sarris Truck Equipment sells and installs Hiniker Skid Steer Plows