781-647-1784
Operating Hours:
Monday through Friday
8:00 a.m. - 5:00 p.m.
Saturday
8:00 a.m. - 3:00 p.m.
Sarris sells and installs
TIMBREN Suspension Enhancement Systems
Every SES system comes with a lifetime limited warranty and a SATISFACTION GUARANTEE.
---
Sarris Truck Equipment
Waltham, Massachusetts
Timbren Suspension Systems


The Answer for Your Truck Suspension Problems
We understand your suspension problem: Your pickup truck rides like a Cadillac when itís empty but it canít handle the loads youíre putting in the back of the truck.
You need a simple and effective solution. You need a Timbren Suspension Enhancement System.
Thereís nothing complicated about the Timbren Suspension Enhancement System. An SES kit is the quick and easy way to overcome your problems with load capacity and ride quality performance for your truck, van, SUV, or Jeep.
Bring on the toughest loads, improve suspension performance and get a smooth, stable rubber cushion ride with Timbren Suspension Enhancement Systems.
Designed to improve the suspension performance of Dodge/Jeep Pickups, Vans and SUVs.

Eliminate the sag when carrying heavy loads.

Reduce sway while towing a trailer.
You can count on your Timbren SES rear Suspension Enhancement Systems to do the job.
Timbren SES front kits will improve roll stability on twisty, winding roads and off-road applications.
All Timbren SES kits provide exceptional, maintenance free and trouble free performance for your DODGE/JEEP.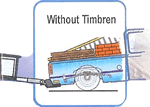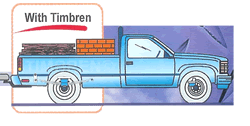 __________
AEON Hollow Rubber Springs are the backbone of hundreds of load-handling suspension applications designed by Timbren engineers.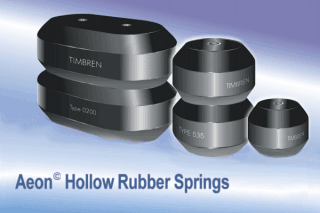 Timbren provides suspension solutions for manufactured highway equipment, industrial, agriculture, mining and logging, commercial, emergency vehicle and OEM applications.

For over 30 years Timbren AEON Hollow Rubber Springs have been relied upon world-wide as an effective, reliable and trusted system for both improving vehicle suspension performance and as a sole suspension system.
CALL OR E-MAIL TODAY
FOR MORE INFORMATION ON
TIMBREN SUSPENSION ENHANCEMENT SYSTEMS
Sarris Truck Equipment sells and installs Timbren Suspension Enhancement Systems
Find the suspension kit for your vehicle.
Click on the Timbren logo above.